Business leaders are working around the clock to comply with CDC recommendations to prevent the spread of COVID-19 in the workplace. This article discusses systems, policies, and procedures being widely adopted to keep employees and customers safe.  Contact our HSJ workplace security experts for assistance assessing your facility's readiness and implementing new systems and processes. 
1. Touch-less Entry and Exit Solutions
There are variety of secure mobile access control solutions and touch-less automatic door operators available. Using these touch-less devices will greatly reduce the number of times employees are exposed to contact with door handles that pathogens can live on for days. 
You must be cautious how you select your door options to avoid violating  building codes and/or NFPA/ADA guidelines. 
2. Temperature Screening Systems
The CDC has recommended that all facilities implement procedures to screen people for signs and symptoms of infection upon arrival to work. One of the most popular methods of screening entrants for symptoms is scanning them for a fever.  This is a good layer of security when deployed properly but be careful of manufacturers and resellers entering the market with unproven products.  
Safety and security operations will be significantly impacted by the screening and check-in processes required to comply with jurisdictional requirements and CDC recommendations.  Consider staggered start times for employees where possible to avoid queuing at entry points. 
3. Visitor Management Systems 
A visitor management system (VMS) enables remote check-in for visitors and will give you visibility and documentation on who is entering your facilities. You can also require visitors to answer screening questions prior to being granted access further into the building.  Self-service kiosks can be deployed in your facility for unscheduled walk-ins or for visitors to receive printed badges.
Use signage along entry routes and in your parking area that makes visitors aware of the check-in process.  This will allow visitors to check-in remotely on their phone and prevent long queues at kiosks. This information should also be provided in email/text reminders about appointments and/or in meeting invites.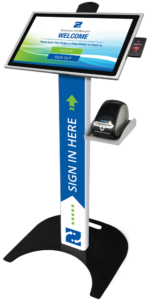 4. Video Analytics & Occupancy Monitoring
Many surveillance cameras and video management systems have video analytic capabilities, including occupancy monitoring. These analytics can determine how many people are in a given space and alert you when capacity thresholds are reached. They can be used for monitoring cafeterias, lobbies, and other common spaces without having to manually track personnel entering and exiting the areas.
Automatic sensor-based light controls have been a part of LEED and green construction methodologies for years. Now, they are also being utilized as a touch-less solution to help stop the spread of COVID-19. 
These devices require nominal investment compared to other systems, save you money on electricity, and help reduce the spread of pathogens. 
6. Yes Sanitizer! No Personal Contact. No Item Sharing.
The CDC states that all employees must be trained on health and safety protocols when returning to work. Start by setting guidelines for personal contact (like handshakes), using sanitizer/hand washing, wearing personal protective equipment (PPE), and the sharing of office supplies. Automatic dispensers for hand-sanitizer should be in all common areas with signage to promote usage. Offices should provide individual supplies and equipment when able and have cleaning procedures for any items that must be shared.
7. Antimicrobial Door Handles and Locks
Door handles and locks are critical transmission points for pathogens because of how often they are touched. There are a variety of antimicrobial door handles and locks available on the market that you should absolutely consider in your response. If you are not able to invest in new doors or door hardware, you must make sure commonly used doors are wiped down with disinfectant multiple times a day.
8. Signage & Communication
Communication is one of the most important pieces of your response.  Old habits are hard to break.  Whether it is shaking hands or holding impromptu huddles in a co-worker's cubicle, we all need reminders that norms are different now.  Signage announcing new guidelines and decals on the floor to promote social distancing serve as ongoing reminders of the new habits we need to establish. 
Management can also reassure employees by communicating the additional precautions being taken to keep the facility clean and prevent the spread of pathogens like COVID-19.
9. Smart Meeting Rooms
Frictionless remote collaboration between businesses and their clients is more important than ever.  Smart meeting rooms with the latest video conferencing technology and smart white boards will be critical for efficient and effective teamwork going forward.
Our workplace safety and security experts are available right now to help you assess, prioritize, and implement solutions to protect your teams. We'll meet you wherever you are at in your response operations and provide an action plan for how we can support you within 48 hours. Contact us to get started today!
904-260-0024